The Roman Venice
This is the first article of the blog I decided to write with the intent to make you discover
"The Roman Venice"
I'd like your journey to turn into an experience, made of meetings and knowledge far from the usual touristic circuits.
What can I offer you at the Residence Venice?
I address you who are a cultural tourist: Starting from Quarto d'Altino you will discover the beauties of Venice passing through the magic Northern Lagoon, where once stood the ancient Altinum.
For millennia in balance between land and water, the territory that was ruled by the ancient Roman city of Altinum, crossroads of cultures and trades, today becomes the new access door to Venice for the travellers from all over the World.
I offer you a world linked to the culture in terms of building and historical monuments, archaeologic sites, renowned places and important past events, traditional occurrences and popular techniques, literature, music, art and traditional lifestyles.
Our history represents the heredity to transmit to the present generation and to the future one, as in terms of cultural traditions as of material objects, carefully selected, kept and shown by the society to all the other fellows.
Through this door you will be able to immerse yourself in a steady over time countryside, furrowed by water courses and bike paths.
You can touch with your hand the old stones at the new Archaeologic Museum of Altinum.
You can live sensory experiences linked to food and wine products and local craft practices.
You can sail among the islands of Burano, Torcello, Mazzorbo, San Francesco del Deserto to finally land in a "Roman" Venice masterfully represented by the dazzling classicism of Grimani Palace in Santa Maria Formosa.
Here is what I'd like you to bring back home after you spent your holidays at the Residence Venice.
Until next time, Renzo!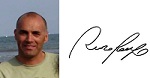 If you want to keep in touch with me, sign for free at Residence Venice club and discover the advantages reserved for R.V.C. members only
---